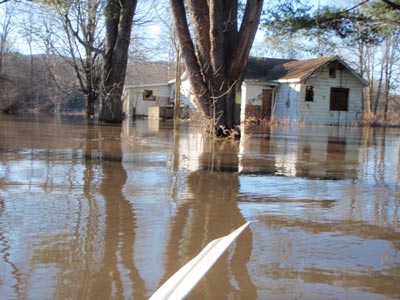 Questions We Can Answer
Does your town periodically flood?
What can be done to reduce flooding?
Will property I want to buy near a creek flood?
Have actions taken by your neighbor resulted in excessively wet property?
What can I do to reduce property wetness?
Will pumping the aquifer drain wetlands?
Will wetlands be impacted by project development?
Services Include
Stream & River Characterization
Watershed Delineation
Flood Return Interval Analysis
Floodplain Assessment
Assessment of Flooding Cause
Evaluation of Corrective Measures, Including Via Trenchless Technology
Evaluation of Development Impacts on Wetlands
Litigation Support
Example Work Project
HydroQuest conducted a major study to determine the primary causes of a Town.s river flooding that periodically results in million-dollar property damage, emergency evacuations, and loss of life. Development encroachment and substandard channel cross sections beneath bridges were determined to be a major cause of flooding. HydroQuest evaluated antiquated Army Corps project proposals that, if constructed, will result in loss of river quality, fishery quality, recreational opportunity, and property values. HydroQuest proposed a cost-effective, modern, trenchless technology means of reducing flood impacts designed to protect the existing resource.
Other Work Projects Include: